Private Commission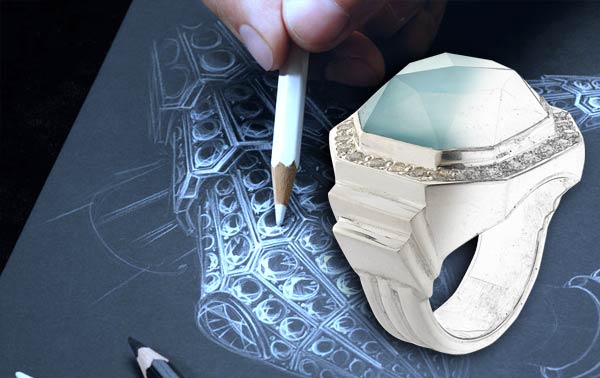 If you have not found quite what you're looking for we will work with you to create a piece of custom designed jewelry in our signature style.
You might also find some ideas for unique rings, pendants, bracelets, earrings…
You can also ask us to copy a piece of jewelry and upload an image. We will do so in our style. All our work is hand fabricated, so there will be minor variations. Note that handcrafted jewelry will include subtle differences, even when a design is reproduced. Please allow for these slight variations, as no two pieces of handmade jewelry can be identical.
> click here to open online form


The Custom Order Process – Phase I and Phase II
There are two phases to ordering a custom designed piece of jewelry. Phase I starts with a discussion about the piece, its size, stones and metals to be used. Phase II is complete after you give your approval of the design – based on the model(s) / image(s) I send.

Phase I of the Custom Jewelry Order
The custom order process for a new jewelry design starts with your email. During this first phase we understand what you want your jewelry to look like We ask you to tell us something about the jewelry you want (the type, gem, metal or anything else important to you). We will make sure we cover the gems, size, metals, finish, weight and an estimated price and delivery. We will help you during the design phase by asking questions and making suggestions so the final design is what you have envisioned.

Our Responsibility
We see part of our responsibility as your custom jeweler to offer guidance about design, size, weight, stones and metals. This is to make sure that the piece is not only comfortable to wear, but one that receives compliments every time you wear it. We want this become one of your favorite pieces of jewelry – an heirloom you want to pass on. Part of this responsibility is offering alternative suggestions, to ensure that your custom piece is one you will hand down from one generation to the next. This is something we believe is missing in today's mass-produced jewelry market.

Phase II of the Custom Jewelry Order
The second phase of the process begins after we have a clear understanding of your desires obtained from our emails correspondence.When the design is ready, we will email you all the details, picture and invoice, for approval and payment.Shipment by express courier worldwide included. We guarantee the craftsmanship and materials used in our jewelry and that all characterizations and descriptions offered by email are accurate. Our return policy applies to all non commissioned jewelry.

Return Policy for Custom Order
Jewelry that is created as a custom design on commission basis is not returnable unless the piece arrives damaged. Our guarantee is that the piece will match the final design you approved including the dimensions of the piece, the stones and metals used. If you have any questions about ordering a custom designed piece, please send us an email. We will be happy to answer your questions and discuss any concern in detail.